Meet the Writers of Black Writers Week 2022
The following article contains all of the bios and headshots for RogerEbert.com's inaugural Black Writers Week writers and participants, headed by our Editor-in-Chief, Chaz Ebert, and arranged alphabetically according to the following categories: guest editors, Profiles in Courage subjects, panelists and contributors. —The Editors
EDITOR-In-CHIEF
CHAZ EBERT  
Chaz Ebert is the CEO of Ebert Digital LLC, which publishes the movie review site, Rogerebert.com. She produces television and movies, and co-founded the Ebertfest Film Festival, now in its 22nd year, with her late husband, Pulitzer-prize winner, Roger Ebert. She awards The Golden Thumb and Ebert Humanitarian Awards at Ebertfest, and at the Toronto and Chicago International Film Festivals to filmmakers who exhibit an unusually compassionate view of the world.
As president of the Roger and Chaz Ebert Foundation her civic passions include programs to help break the glass ceiling for women and people of color, and to provide education and arts for women, children and families.  She also supports programs with a global interest in encouraging empathy, kindness, compassion and forgiveness. She has provided grants to support films with strong social justice themes, and also encourages and supports emerging writers, filmmakers, and technologists with her endowment of scholarships, internships or awards at the Sundance Film Festival,  Film Independent Spirit Awards - Project Involve, the University of Illinois Ebert Fellowships,  the Hawaii International Film Festival-Young Critics Program, the Telluride Ebert/TFF University Seminars, the Chicago International Film Festival- Ebert Director Awards, and the Columbia College Links Journalism Awards in conjunction with the Chicago Urban League. 
She is an executive producer of 3 recently acclaimed films: "Passing," directed by Rebecca Hall; "A Most Beautiful Thing," directed by Mary Mazzio; and "Mr. Soul!", directed by Melissa Haizlip. She is also an executive producer of the New Works Virtual Festival to assist in raising funds for The Actors Fund, a charitable organization supporting performers and behind-the-scenes workers in entertainment, helping over 17,000 people each year.
Previously as an attorney she was named Lawyer of the Year by the Constitutional Rights Foundation. She was named the 2019 Beethoven Laureate for being "a humanist who promotes justice and a better world through the arts"; by the International Beethoven Project. She is a life trustee of the Art Institute and serves on the boards of the Lyric Opera, the Abraham Lincoln Library Foundation, After School Matters, the Shirley Ryan Ability Lab, the Honorary Board of Family Focus, and the Advisory Board of Facets Multimedia. Some of her professional affiliations include the African American Film Critics Association, the Alliance of Women Film Journalists and the Chicago Film Critics Association.
Intros: Meet the Guest Editors of Black Writers Week 2022, Preview: Black Writers Week 2022 Kicks off on Juneteenth, Runs Through Sunday, June 26th, An Introduction to Black Writers Week 2022
Features: 15 African-American Filmmakers and Roger Ebert's Birthday Retrospective Reviews, Jason Delane Lee and Yvonne Huff Lee on Race, Adoption and Identity
Interview: His Life Mattered: Director Nadia Hallgren and Attorney Ben Crump on CIVIL
Republished Feature: Jason and Yvonne Lee's Lagralane Spirits Podcast Welcomes Chaz Ebert and Brenda Robinson
GUEST EDITORS
DANIELLE SCRUGGS 
Danielle A. Scruggs (she/her) is a photographer, photo editor, and writer based in Chicago, Illinois. She is also the founder and editor of Black Women Directors, an online digital library highlighting the work of Black women and non-binary filmmakers throughout the Diaspora. She has written about art, culture, and film for RogerEbert.com, The Triibe, Ebony, Essence, Teen Vogue, The Chicago Reader and Observer.com.
Feature: Subscribe to the Black Women Directors Newsletter
ROBERT DANIELS
Robert Daniels is a freelance film critic based in Chicago with a MA in English. 
He's the founder of 812filmreviews, and had freelance bylines in The New York Times, in the Los Angeles Times, at RogerEbert.com, at Polygon, and at The Playlist. He has written widely  about Black American pop culture and issues of representation in film and television.
Reviews: Beavis and Butt-Head Do the Universe, Elvis, Mind Over Murder
Interview: I Have to Love My Characters: Peter Strickland on Flux Gourmet
Republished Reviews: Dreamland: The Burning of Black Wall Street, Neptune Frost
SERGIO MIMS 
Sergio Mims is a film critic and journalist and is the host and producer of the weekly Bad Mutha' Film Show WHPK-FM (88.5PM Chicago) a screenwriter and appears every week on the Movie Madness podcast on the Now Playing Network. He is also the co-founder and co-programmer of the Black Harvest Film Festival in Chicago which is one of the largest black festivals in the world and which this year will be celebrating its 27th continuum year. 
A former member of the Director's Guild of America as an assistant director both here in Chicago and Los Angeles and Mims is also a member of the Chicago Film Critics Association and is also a commentator for Blu-ray DVDs for Vinegar Syndrome, Scorpion Releasing, Imprint Films, Kino Lorber and Arrow Films.
Feature: Considering Easy To Get: World War II Army Training Films, Segregation, Black Uplift and VD
CONTRIBUTORS
MACK BATES
At the ripe age of 12, award-winning writer and aspiring filmmaker Mack Bates announced that he wanted to be "the black Peter Jennings." This followed his earlier desire to be an astronaut and a cowboy. He's sat through SpaceCamp, more times than he cares to share, and thanks to his tenure as a boy scout, has lassoed a steer or two. Journalism indeed beckoned, and Mack has written for a variety of publications and outlets since high school, including JUMP, the Leader, the Milwaukee Journal Sentinel and ReelTalk Movie Reviews. Mack has won awards from the Milwaukee Press Club in both the collegiate and professional divisions dating back to 1999. 
In 2013, he became the first writer to win the press club's "best critical review" award in both competitive divisions. Also in 2013, Mack was among a group of adult mentors and teens who took part in the 2012 Milwaukee Summer Entertainment Camp to be honored by the Chicago/Midwest Chapter of the National Academy of Television Arts and Sciences (the group behind the Emmy Awards) with a Crystal Pillar Award for excellence in high school television production.
Feature: Silver Screen Approved: The Top 5 Actors from Hip-Hop
BIJAN BAYNE
Born in Boston, Bijan C. Bayne is an award-winning Washington-based freelance columnist and critic, and author of Sky Kings: Black Pioneers of Professional Basketball, which was named to the Suggested Reading List of the Basketball Hall of Fame in 2004. The book is also cited in "Booktalks Plus: Motivating Teens to Read" by Lucy Schall, and was named a Suggested Book of Interest by the organization Teachers Network, in 2010. He is also the author of the first biography of basketball hero Elgin Baylor. Elgin Baylor: The Man Who Changed Basketball, was named a Book That Inspires, by the Christian Science Monitor, and one of the Most 25 Inspiring Books of 2015, by Conversations Book Club. 
His book Martha's Vineyard Basketball: How a Resort League Defied Notions of Race Class, was named a Must Read, by BET. In 2016 he served as a grants panelist for the DC Commission on the Arts Humanities. In October 2016, he will present on the panel, Black Humor: Reflections on an American Tradition at the University of New Hampshire's annual Black New England Conference. At the BNEC 2015, Bayne participated on two panels, one contrasting the film 42 with 1949's The Jackie Robinson Story, the other on early Black sports in New England.
In July 2002, Bayne, who speaks Spanish, won the Robert Peterson Research Award for his presentation "The Struggle of the Latin American Ballplayer", given at the National Baseball Hall of Fame and Museum in Cooperstown, N.Y. On April 14, 2011, The Jackie Robinson Society of The George Washington University honored Bayne with "…a teaching award in appreciation of your many years of special contribution to GW students through your participation in the Jackie Robinson Lecture Series and the class, 'Jackie Robinson: Race, Sports, And The American Dream'. He served as public relations coordinator for the first Martha's Vineyard Jazz Festival (August 2011). Bayne is a project adviser for a documentary film about Martha's Vineyard (A Sense of Place).
Feature: TV's Rural Craze The Civil Rights Movement
SHAWN EDWARDS
Shawn Edwards is a journalist, TV and film producer and marketing and event consultant. As a nationally recognized film critic for Fox 4 News in Kansas City, Missouri he has won numerous national awards including Best TV Film Critic twice by the LA Press Club's National Entertainment Journalism Awards. 
Edwards co-founded the African American Film Critics Association in 2003, and produces their annual award show that takes place annually in LA.  He is also on the Board of the Critics Choice Association. Edwards created and executive produces 'A Celebration of Black Cinema' in conjunction with the Critics Choice Association which premiered in 2014 in Los Angeles at the House of Blues Sunset and aired nationally in 2021. Edwards also created iloveblackmovies in 2008, the popular social media film community. He also published a digital book in 2019 celebrating 100 years of black filmmaking.
Edwards has produced numerous TV shows and documentaries for FGW Productions and BlackTree TV, both based in Los Angeles. Edwards currently works at Hidden Empire Film Group ("Black and Blue," "The Intruder" and "Fatale"), based in Los Angeles, as a Senior Marketing Specialist. He is a life-long lover of movies who began making his own films in the 7th grade.
Feature: Tyler Perry Loves Black Women
ANDRÉ HAMMEL, ESQ.
André Hammel, Esq., has been a family lawyer for over a decade.  He created Biadvo to provide co-parents with information and cost-effective resources to independently develop or modify co-parenting plans and agreements. 
Feature: The Great Adventure of Raising a Family in Another Country
ODIE HENDERSON
Odie "Odienator" Henderson has spent over 33 years working in Information Technology. He runs the blogs Big Media Vandalism and Tales of Odienary Madness. Read his answers to our Movie Love Questionnaire here.
A lover of film noir, musicals, Blaxploitation, bad art and good trash, Odie has been a Far Flung Correspondent since 2011. He has written for Slant Magazine's The House Next Door blog since 2006. He is the troublemaker responsible for the Black History Mumf series at Big Media Vandalism. His work has also appeared in The Village Voice, Vulture, Cineaste Magazine, MovieMezzanine, Movies Without Pity, Salon, and of course, here at RogerEbert.com.
In 2013, Odie entered the world of film festival programming, presenting 9 movies at the Off Plus Film Festival in Krakow, Poland.
Based in the NYC area, Odie enjoys writing code almost as much as he enjoys writing prose. Something is wrong with that guy.
Review: Citizen Ashe, The Man from Toronto
Republished Reviews: Attica, CIVIL, Lightyear, Passing
JEWEL IFEGUNI
Jewel Ifeguni is a Producer, Speaker, Writer, Director, and TV Host committed to building an inclusive world through media and tech. In 2021, she was named one of the 50 Women to Watch in Entrepreneurship - Women Doing it Big. Jewel was born in Nigeria and came to America at a very young age. Her specific experiences of racism, especially in the tech world, inspired her to create her own Media company, YouMatter Studios at the age of 19. She is currently a Technical PM at Microsoft, with former software engineering experience at Microsoft and Google. All while, leading her company that is responsible for award-wining content driving key conversations. She is currently the Executive Producer of the upcoming DocuSeries How We Got Here. 
Her other producing, directing, and writing credits include: The Drive, (A six-time festival award-winning VR film.) We Will Slay, (A short film on women's empowerment.) and The Story of Sandra Bland, (A VR short film, honoring Sandra Bland and her experience at the hands of injustice.)
Feature: Black Representation in Youth Dramas - Degrassi Case Study
CRAIG D. LINDSEY
Craig D. Lindsey is a writer, critic and Dame Helen Mirren fan who has written for Houston Chronicle, San Francisco Chronicle, The Guardian, The AV Club, Nashville Scene, Village Voice, Vulture, RogerEbert.com and other publications outlets. He lives in Houston, Texas.
Review: Flux Gourmet
DAVID MOSES
David Moses is a California based actor and writer who remains actively involved in the analysis of the performances of actors, the craft and technique of the character of film through blogs, vlogs and panel discussions. 
An actor for 13 years, a writer all his life and even a stand up comic for 5, he extends a sense of humor and the actors perspective to each of his write-ups and commentary on film; from TV to the big/silver screen. In his spare time David continues to hone his skills in his other interest, as a sketch artist, or spends time with his close-knit brothers family or friends. 
Review: Loot Wastes the Talents of Maya Rudolph
SHELLI NICOLE
Shelli Nicole is a Detroit-born freelance writer currently living in Chicago, IL. Her work is often personal narratives on Blackness, queerness, and pop culture and has been featured in Vogue, Autostraddle, Thrillist, and many others. 
She is terrified of mermaids teenagers and you can find her on Twitter at @Hishelli screaming about both.
Review: FX's The Bear Feels Like a New Chicago Classic
SHERIN NICOLE
Sherin Nicole is a writer, an author, and may also be a covert agent. There are whispers the CIA offered her a scholarship to college (but that's classified). After graduating from Howard University she worked in a variety of creative spheres, before returning to grow the radio upstart she helped to launch. By day, she's an agent provocateur as chief creative officer at idobi Network. By night, she writes for idobi.com and produces content for geeks and nerds alike on the Geek Girl Riot radio show, as well as for publications like Blcklst.com, RogerEbert.com, and the Alliance of Women Film Journalists (AWFJ). She is also a Black Reel Awards voter. Culturally, Sherin is half American, half British, and very southern; right down to the accent and love of grits. Government reports show a residence in DC but Sherin spends most of her time on the astral plane and hopes to meet you there. 
Feature: Common Grounds and Various Teas
IFE OLATUNJI
Ife is a visual anthropologist, documentary filmmaker, and film critic. Born into a family of artist and activist she graduated from Syracuse University with a BA in Anthropology, (06) with a minor in photography and African American History. Ife completed her MA in Visual Anthropology from the University of Manchester, UK (10) after creating a short documentary on daily life for girls in Rajasthan India. Ife has since lived in Chicago, teaching documentary and film production to youth as young as 6 years old through college at community centers and The Art Institute of Wisconsin. 
For the past four years she has been a Media Educator with Facets Multimedia, teaching media literacy, narrative editing, and documentary filmmaking. As a Diverse Voices in Documentary fellow with Kartemquin, Ife developed her own short observational film, and worked with others to produce and edit their projects. Ife has continued to work with The Community Film Workshop and Reel Black Filmmakers to host local screenings, and the Collected Voices, Chicago's Ethnographic Film Fest.
Feature: How to Get Your Independent Film to a Wider Audience
ERIC PIERSON 
Expanding media literacy is philosophical glue that holds together Professor Pierson's multiple strands of scholarly and creative work. He strives to create work which reflect academic rigor while also being accessible to those outside of the university setting. Professor Pierson's work appears in a wide variety of venues as he strives to reach diverse audiences, some of the venues where you find his work are academic journals, edited book collections, film festival panels, and museum exhibits. 
Feature: Film Festivals as High Impact Learning
REGINALD PONDER
Reggie Ponder, The Reel Critic, can be heard each Friday on WBEW 91.1 FM Chicago/Vocalo.org. He is the resident film critic for The Garfield/Lawndale Voice in  Chicago and has several radio/internet segments designed to elevate Black voices in film. 
His latest project is The Reel Critic Roundtable @ reggieponder.com, a weekly showcase featuring four African American critics discussing film, TV and industry news. His work can also be found at various publications - most recently Variety Magazine. Reggie is member of the African-American Film Critics Association and the Critics Choice Awards.
Review: Money Heist: Korea Pulls Off a Daring TV Caper
TAJ RANI
Taj Rani is a producer, content creator and host with a decade of experience in the digital media space having worked for brands such as BET, Essence and Red Table Talk, and with talent such as Danyel Smith, Janelle Monáe and Amanda Seales. She is currently the Producer for Smart Funny Black Productions and one of Amanda Seales' co-hosts on Smart Funny Black Radio on LOL Radio/SiriusXM.
An alumna of Syracuse University's  S.I. Newhouse School of Public Communications, Taj is passionate about combining her love of pop culture, history and storytelling through the Black lens to ensure that Black stories never are lost or go untold.
When Taj isn't creating, she can be found getting her yoga and meditation on, spending quality time with her tribe, and enjoying old school music on her drives through L.A.
Feature: Video: That's That On That Spotlights Moms Mabley and Kenneth "Babyface" Edmonds
CARLA RENATA
Carla Renata aka The Curvy Film Critic™ is a graduate of Howard University and named one of 2018's Underrepresented Critics of Color by the  Los Angeles Times . Her reviews, articles and/or op-ed's have been featured at  AAFCA.com , Ebony.com, NPR.org, her own site The Curvy Film Critic, ET Live! Maltin on Movies, RogerEbert.com, as well as Shadow and Act, EUR Web, FOX 11-LA, Good Day LA and Variety. She is a highly sought after host/moderator who had the privilege to host an evening of The Black Experience on Film for  Turner Classic Movies  sponsored by AAFCA, QA's for Bentonville Film Festival, Netflix, SAG-AFTRA, American Cinematheque, Lionsgate, Film Independent and more.
Being a proud member of AAFCA (African American Film Critics Association), (OAFFC) The Online Association of Female Film Critics, (AWFJ) Alliance of Female Journalists, Tomatometer approved critic on Rotten Tomatoes and a member of (CCA) Critics Choice Association.
The Curvy Critic with Carla Renata streams LIVE every Sunday 5pm PST via YouTube featuring reviews, news and interviews with stars in front and behind the camera.
Review: Marcel the Shell with Shoes On
Feature: How Microaggressions Toward Black Journalists Continue to Hold Everyone Back
PEYTON ROBINSON
I'm a columnist and contributor for Film School Rejects, and was a staff writer an editor for Film Daze. I write essays and reviews on the relationship between film and the human condition.
Review: The Black Phone
NIANI SCOTT
Niani Scott is a recent graduate with a degree in Journalism and a specialization in African Studies from the University of Illinois at Urbana-Champaign.
She served as the President of the NABJ Illinois Chapter and has fostered media production skills by Executive Producing a docu-series on the Black experience on her college campus and co-hosting a college-based podcast, "Get To Know Ni." As a journalism major, she aims to leverage a proven knowledge of media skills to tell authentic stories for and about underrepresented groups. She has traveled throughout South Africa, Ghana, and Eswatini, inspiring her to dig deeper and go further in her journalistic pursuits.
Review: Beba
Feature: How We Can Use Technology to Connect with the World
JOURDAIN SEARLES 
Jourdain Searles is a writer, film critic and performer who hails from Georgia and is currently living in New York City. She has written for the New York Times, Vanity Fair, The Hollywood Reporter, Sight Sound, Vulture and many other publications. Additionally, she is the co-host of Bad Romance, a weekly film podcast. 
Review: Apples
KAIYA SHUNYATA 
Kaiya Shunyata is a freelance pop culture journalist based in Canada. They are currently the Creative Director at Obscur Media, and they have written for Next Best Picture, Adolescent, Screen Queens and more. 
Feature: The Antagonism of Blackness in Netflix's Stranger Things
ARAMIDE TINUBU
Aramide A. Tinubu is a film critic, consultant and entertainment editor. As a journalist, her work has been published in EBONY, JET, ESSENCE, Bustle, The Daily Mail, IndieWire, and Blavity. She wrote her master's thesis on Black Girlhood and Parental Loss in Contemporary Black American Cinema. She's a cinephile, bookworm, blogger, and NYU + Columbia University alum. You can find her reviews on Rotten Tomatoes or A Word With Aramide or tweet her @wordwitharamide.
Review: Rise
Feature: A New Class Of Filmmakers: ABFF and HBO Short Film Award Finalists Bring Their Stories To Life
Interview: The Work of Joy: Chanté Adams and Will Graham on A League of Their Own
BRANDON TOWNS
Brandon Towns is a multidisciplinary artist working in still photography, motion picture, and design. His work explores relevant themes within the black community such as cultural identity, gentrification, police brutality, and gun violence. He received his Bachelor of Science in advertising with a minor in photography in 2020 from Bradley University. He is the first Bradley University student to be the recipient of the Multicultural Advertising Intern Program Fellowship or MAIP in 2019. He was also one of three recipients of the Sundance Institute's Roger Ebert Fellowship for Film Criticism in 2018. 
Review: Facing Nolan
Feature: I Think I Made a Bad Movie
BRANDON DAVID WILSON
Brandon Wilson is a filmmaker and lecturer. Born and raised in Los Angeles, he attended UCLA where he took a B.A. in African-American Studies and an M.F.A. from the UCLA School of Theater, Film, and Television. Wilson has directed two micro-budget features: 2005's The Man Who Couldn't... which is on YouTube and Sepulveda from 2016 which is streaming for free on Vimeo. 
Wilson has taught Film Analysis for Filmmakers and Introduction to Editing courses at UCLA. He also teaches at Columbia College Hollywood, Los Angeles Valley College, NYU's Los Angeles Branch, and Long Beach City College where he teaches classes on auteur filmmakers, national cinemas, the essay film, and diversity in cinema. 
Feature: The Legacy of Gen-X Black Filmmakers
Chaz Ebert
Chaz is the CEO of several Ebert enterprises, including the President of The Ebert Company Ltd, and of Ebert Digital LLC, Publisher of RogerEbert.com, President of Ebert Productions and Chairman of the Board of The Roger and Chaz Ebert Foundation, and Co-Founder and Producer of Ebertfest, the film festival now in its 22nd year.
about 3 hours ago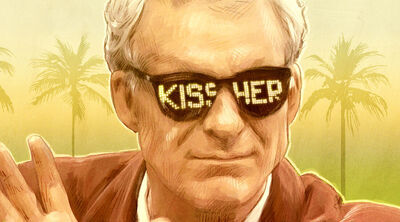 about 3 hours ago
1 day ago
2 days ago